Give the gift of time to your local hospitals and make a real difference
14th April 2020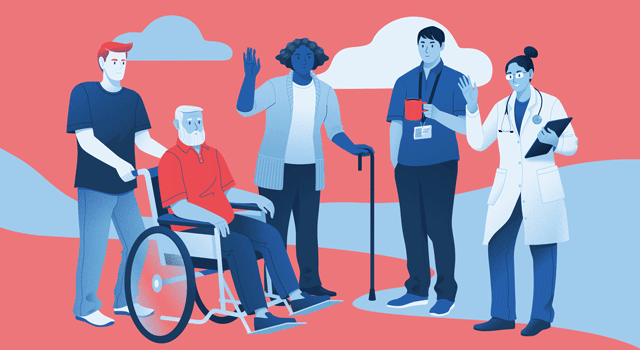 Helpforce launches volunteer campaign to support West Hertfordshire Hospitals NHS Trust through COVID-19 crisis.
West Hertfordshire Hospitals NHS Trust (WHHT) needs your help! The trust is looking for hundreds of healthy and fit response volunteers to support its hospitals, staff and community through the COVID-19 pandemic. WHHT needs to recruit, train and deploy volunteers immediately and is doing this with the aid of Helpforce, the organisation that helps volunteers take the strain off frontline services.
WHHT chief nurse Tracey Carter said: "Our response volunteers are key workers who play an essential role in our workforce. Their support is invaluable to our staff and patients. By providing an extra pair of hands, they can take the pressure off our hard working staff which allows them to focus on providing care. Even the simple act of having a chat with a patient can help patients to feel less anxious and that is priceless."
Volunteers will be asked to help with non-clinical tasks such as providing companionship, distributing meals, making drinks and running errands for staff and patients. They will also help with administrative tasks.
After attending a three hour training session at Watford Football Club volunteers will be asked to cover a regular three hour shift on a weekday between 8.30am and 5.30pm. The service will expand to cover evenings and weekends in due course.
WHHT chairman Phil Townsend said: "We have always valued our volunteer workforce. Our hospitals could not run as well as they do without kind people giving up their time. Now, more than ever, we need fit and resilient people who are able to play their part and help us respond to the challenges presented by COVID-19."
Helpforce CEO Mark Lever said: "Volunteers have a critical role to play in this crisis. We salute all those who are still helping in hospitals. If you are fit and healthy, and willing to help, we urge you to respond to this call from West Herts Hospitals NHS Trust, and join the army of kindness helping us get through this crisis."
Ends
For more information or to request an application pack, please contact the Voluntary Services Team on westherts.volunteers@nhs.net or call 01923 217307
For more information about our hospitals, visit www.westhertshospitals.nhs.uk. You can also join our followers on Twitter (twitter.com/westhertsNHS) and find us on Facebook (facebook.com/westhertsNHS). The communications team can be reached on: 01923 436280 or email: westherts.communications@nhs.uk. Out of hours, please call 07900 228031.
About Helpforce
Helpforce is using the power of volunteering to improve the health and wellbeing of people across the UK. It wants to see a recognisable improvement in the range and quality of volunteer roles available to support patient care in hospital and at home.
Helpforce was formally established as a Community Interest Company in December 2016. Both its Board and Advisory Council includes leaders from across the NHS, voluntary and wider public sector.