Volunteers making a real difference to patient care in the Helpforce innovator programme
16th March 2020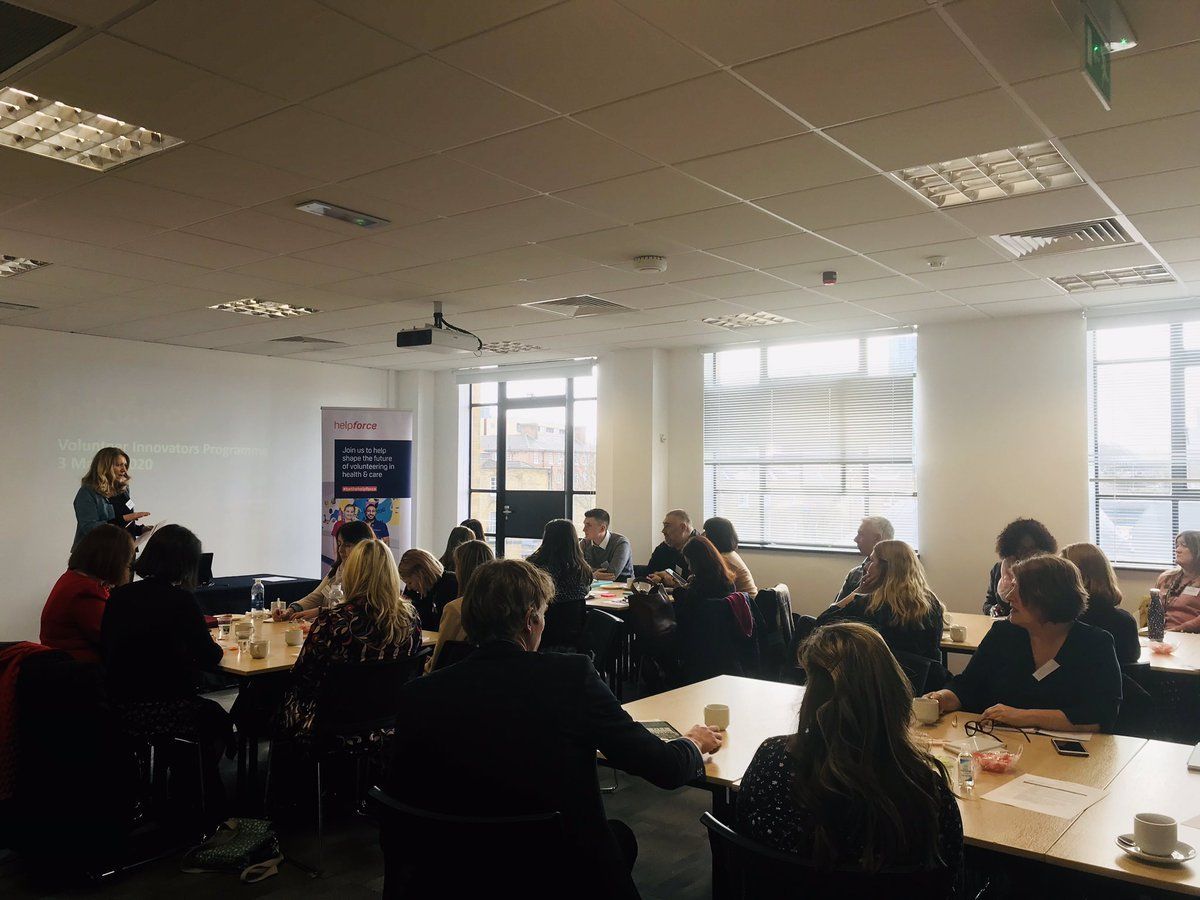 ELEVEN volunteer managers at forward thinking NHS Trusts shared impressive
progress in the Volunteer Innovators Programme, a joint project between Helpforce
and NHS England and NHS Improvement, which is shaping the future of volunteering
within the NHS.
The Trusts, who are funded by NHS England and NHS Improvement and the Royal
Voluntary Service and supported by Helpforce, shared interim results of their projects as well
as lessons and insights into how the projects can be sustained and adopted by more NHS
Trusts.
Maeve Hully, Director of Volunteering at Helpforce, said: "It was great bringing everyone
together to discuss how the projects are already benefiting thousands of patients and giving
clinical staff extra time to focus on patient care.
"We would like to thank all the volunteer managers for contributing to the conversations,
sharing their findings, the challenges they face, and discussing solutions.
"We shared new tools to help the teams identify where they can build on the work so that the
project is sustainable and fully integrated into their organisation.
"The programme will come to an end within this year, and we are looking forward to sharing
reports that will include the final results and steps to help other NHS Trusts across the
country adopt the models."
Emma Valentine, senior strategic advisor for volunteering at NHS England and NHS
Improvement, added: "It was fantastic to get together to hear how these innovative
volunteering projects are making a real difference to patients and staff. This programme has
the potential to create a strong foundation for us to transform volunteering within the NHS.
"By giving their time, volunteers help us enhance patients' wellbeing and play a huge role in
all our health and care. We hope that by supporting innovative volunteer programmes and
inspiring others, more NHS Trusts will invest in their volunteering teams and give them the
resources to develop and support their volunteers."
Volunteer Service Manager Nancy Whiskin, head of volunteering at Barts Health NHS Trust
– one of the Trusts in the programme, said: "I absolutely loved the day as I had the
opportunity to meet with other colleagues and learn the best from them.
"As part of this programme, we are now running a response service team where volunteers
quickly respond to staff requests and we have already helped over 2,000 patients in the past
year.
"We are grateful to all the support that we receive from NHS England and NHS Improvement
and Helpforce, and we are confident that once the programme ends we will embed this
service further."
To find out more about the Volunteering Innovator Programme, please visit
https://helpforce.community/our-work/volunteer-innovators-programme/.