A dedicated Young Volunteer at Cardiff and Vale University Health Board
8th November 2021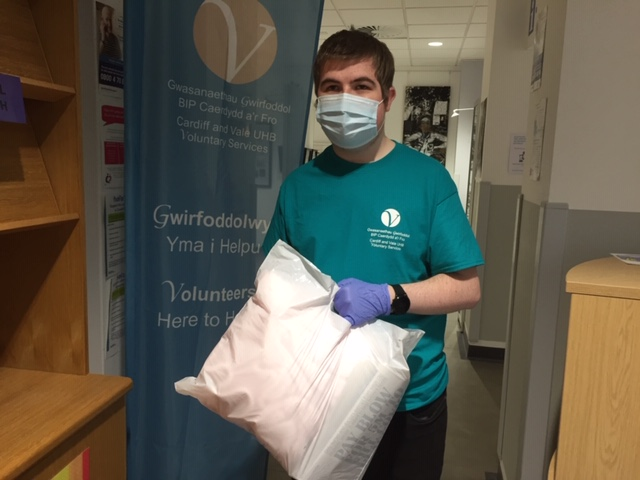 Louis is studying Computer Security at the University of South Wales. All his learning in the last year has been online due to Covid restrictions and he applied to volunteer with Cardiff and Vale University Health Board so that he can help people, make new friends and give something back to the NHS.
Louis started volunteering in October 2020 as a Hospital Runner at University Hospital Llandough. As part of the runner team, he met relatives or friends of patients, took bags of clothes and essential items from them, made sure the bags were correctly labelled and cleaned them, complying with infection control guidance. He then took the bags to the relevant ward and handed them over to an appropriate member of the nursing team. If there were dirty clothes to be returned to the family, he would then bring them back from the ward and hand them over to the family.
Louis became an integral part of the team, helping to train new volunteers in the role, showing them around the hospital, how to get onto the ward area and how to find the relevant staff member to help hand over the clothes.
When in the Information Centre, Louis took time to talk to relatives who struggled with being unable to visit their relatives in hospital. He showed them empathy and provided a much needed listening ear during this difficult period. This service ran from October 2020 to May 2021 and during this time Louis volunteered for an incredible 139 hours, way more than any other volunteer at University Hospital Llandough.
The University Hospital Llandough has one of the longest corridors in Europe and Louis walked an incredible 238,000 steps! The Patient Experience Team had very positive feedback about Louis from both relatives and the staff on the wards and many boxes of chocolates were received by the team!
During this time, Louis also used his IT skills to help the Patient Experience Team. New WiFi was introduced to the hospital and all 250 Lenovo tablets had to be returned to the team and reconfigured. Louis helped find the most efficient way to do this, saving the team valuable time.
When the runner role ceased, Louis continued to volunteer in the hospital as a meet and greet volunteer. He helps in the Information and Support Centre, directing patients and visitors to various clinics and departments. He regularly volunteers alongside a volunteer who has a chronic long-term health condition and is unable to walk long distances. If a patient needs to be walked to a clinic, Louis will take them, making sure they get there safely.
Louis also helps volunteers who are new to the meet and greet role. He takes time to show them around the hospital and helps them settle in. He is also helping a volunteer who is returning to volunteering having been at home for 18 months. He is anxious about returning to volunteering after being away for so long and Louis is helping to reassure him and to be his buddy until he settles back into the role. He is also a meet and greet volunteer on weekends at both Holm View Mass Vaccination Centre and the Bay Mass Vaccination Centre and a St John volunteer in his spare time!
Louis enjoys the opportunities that volunteering brings and likes to help in any way he can. He is an asset to the Voluntary Services Team in Cardiff and Vale University Health Board.
Enjoyed reading this story? Why not read all the Wall of Fame stories here.