How the Helpforce Insight & Impact service helped Barts Health NHS Trust expand their volunteer service  
3rd October 2023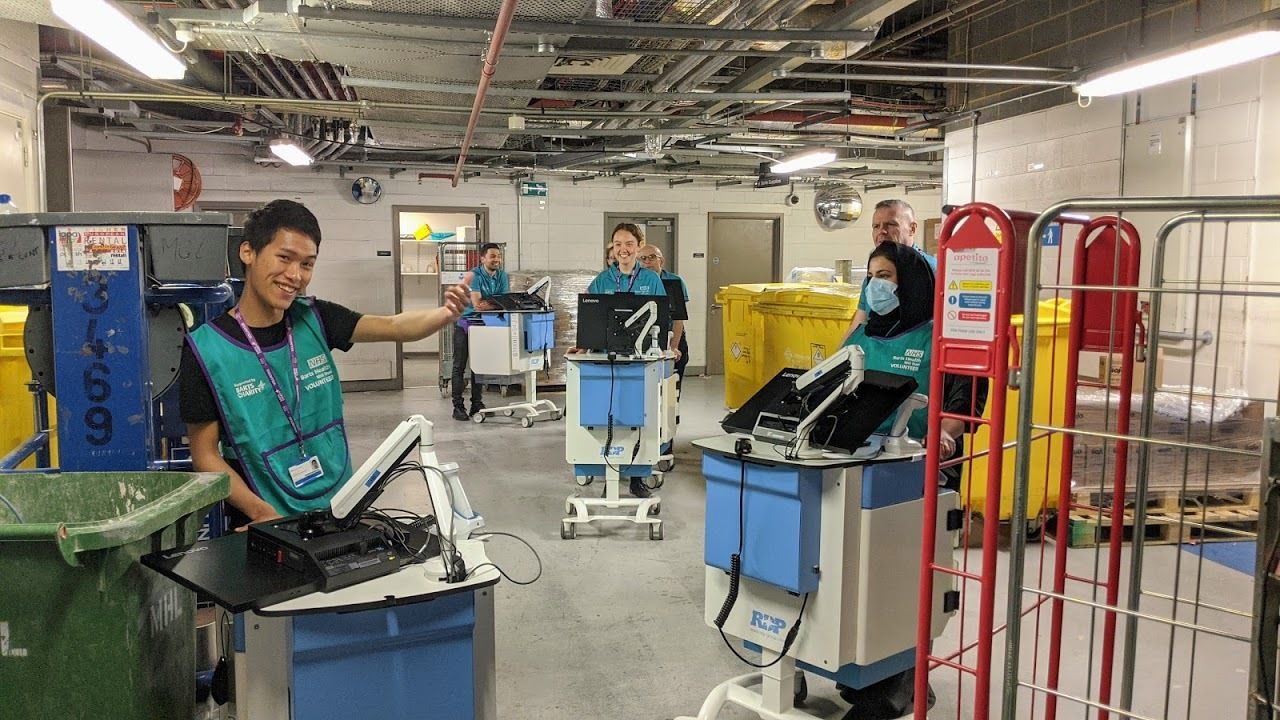 Thanks to extensive support and collaboration with Helpforce, Barts Health NHS Trust developed an agile and responsive volunteer service that can be scaled across other NHS trusts. The active response volunteer service can support many different departments, and volunteers at Barts are now deployed to areas of the hospital that need the most support.    
But how did they do it?   
The challenge 
Barts Health NHS Trust has 17,000 staff and delivers care for 2.5 million people in east London. Five hospitals are spread across a large area with different treatment specialisms to reflect diverse community needs. One hospital receives a lot of trauma-related injuries from gun and knife crime whilst another is a specialist in cardiac and cancer treatment.    
Nancy Whiskin, Head of Volunteering at the Trust, said:
"Our trust is one of the busiest in the UK and it means that help from volunteers could make a great difference to staff and patients. Yet, before 2020, our volunteering service had only 200 volunteers and three members of staff to support them. It was a huge challenge to meet the care demands. In addition, hospital staff often didn't understand how volunteers could support patients and clinicians.   
"It was clear to us that we needed to raise awareness of the roles of volunteers within the organisation and make a strong business case for investment in the team's infrastructure, so that we could make a bigger impact."    
She continued:
"There was a disconnect between the volunteer service and clinicians. Patients could be asleep and ward staff weren't clear on what the volunteers could do. Volunteers would say 'There's nothing for me to do', and that just couldn't be the case because at Barts there is always something to do! Volunteers can save staff time and reduce the number of late or cancelled appointments. I knew we needed to evidence this with data, but at that point, I wasn't sure where to start." 
The solution 
Support arrived from Helpforce through the NHS England funded Volunteering Innovators Programme and the Helpforce Insight & Impact service in 2017. The aim was to develop and assess impactful volunteer innovations that can be adapted and shared to other UK trusts looking to adopt effective volunteer services.    
Nancy worked closely with Helpforce and the trust's quality improvement teams to create an impact report that showed how beneficial an active response volunteer service is to patients and staff.  
"Recruiting volunteers wasn't a problem. Our challenge was in finding a way to show how we can utilise volunteers effectively to make the case for more investment in volunteer services to support. I have always been afraid of data, but I do understand the value it has in convincing senior management that a service or other idea can work. Helpforce helped us review the design of our existing volunteer service and benchmark it against the outcomes we wanted to achieve. Our objective was to create a flexible and easy to access volunteer service that is fully responsive to the fluctuating demands of a busy hospital. I got a user-friendly digital dashboard to help us manage and evaluate our service."
The insights
The Helpforce Insight & Impact data collection dashboard was able to provide Nancy and her team with useful insights including:
By providing volunteer support to collect "To-Take-Away" medication (TTAs), the service helps to save staff time, and could potentially contribute to reducing delays on discharges for medicines.
87% of staff estimated that volunteers saved them between 5 minutes to 1 hour of time per shift.
56% of staff responded that they were spending more time on priorities including care planning, organising medicines, discharging patients faster, helping patients with higher needs.
"We knew we were releasing staff time to care. We also knew that volunteers were having a bigger impact and that there was a higher awareness of volunteers in the trust. Volunteers were more visible, and we received increased requests for volunteers from departments! Volunteers became part of staff huddles every shift, so we could understand which team needed the most support. The Helpforce Insight & Impact service helped us evidence the outcomes of our volunteer service!" 
How user-friendly tools support evaluation and make the case for volunteering 
A Volunteer Service Lead has many responsibilities in keeping a volunteer service running. Many do not have time to spend poring over vast amounts of quantitative and qualitative data. Paddy Hanrahan, Director of Strategy and Innovation at Helpforce, understands this challenge:    
"This is why Helpforce developed the Insight & Impact service. It is a great way to provide health and care teams with an easy-to-use evaluation tool that helps volunteer service leads collect the right data to showcase the impact of the service on staff and patients.  It helps the leads understand where the service can improve through insights from the data, and the resulting evidence report we produce helps them make an effective business case for more funding and support." 
Nancy agrees:
"Helpforce makes it easy for you to collect data. I am not a digital guru. The Insight & Impact tools were easy to use and helped us structure our work to adapt our volunteer service to what Barts needed. The data was packaged so nicely that I could take it to senior leaders and present it in a way that was easy to understand." 
The impact 
The Helpforce Insight & Impact service helped Barts Health NHS Trust:
Develop a volunteer service framework for active response volunteers.
Expand the service from three volunteer service staff posts to 6.5 posts, including two new Volunteer Coordinator posts worth approximately £62,612.
Release staff time to care by using volunteers to collect "To-Take-Away" medication for patients.
Scale the Active Response Volunteer service to operate across all five hospitals

Nancy is delighted with the results:
"Our original target was to get 200 volunteers into the Active Response programme, but now all our volunteers are Active Responders, and we currently have 900 Active Response volunteers! The Helpforce Insight & Impact evaluation helped us demonstrate that having the right volunteer in the right place, at the right time makes a huge difference to staff and patients. Now we're keen to see what else an evaluation can do to demonstrate the impact of volunteers."
Top tips for other organisations 
For Nancy, one of the most encouraging things in measuring volunteer impact is that it helped her tell the volunteer story to clinical and senior leadership staff:  
"In the past, some healthcare leaders have viewed volunteer services as a 'nice-thing-to-have', rather than as an essential part of health and care infrastructure. The volunteer service is now considered essential by our trust because the Active Response volunteers have demonstrated a real return on investment."
For Barts Health NHS Trust, the Insight & Impact evaluation has helped them to operationalise their thinking.
"Having a framework to carefully monitor volunteer impact, really helps you to drive the service evaluation forward. Volunteers support staff and patients and often go on to work in the NHS. We risk losing current and future staff if we don't invest in volunteer services because volunteers are and should be part of the solution to the challenges we face. Helpforce helped us prove this!" 
Learn more about the Helpforce Insight & Impact service here.
You can also contact us at: