Partnership is the key success to the mass vaccination programme
30th October 2021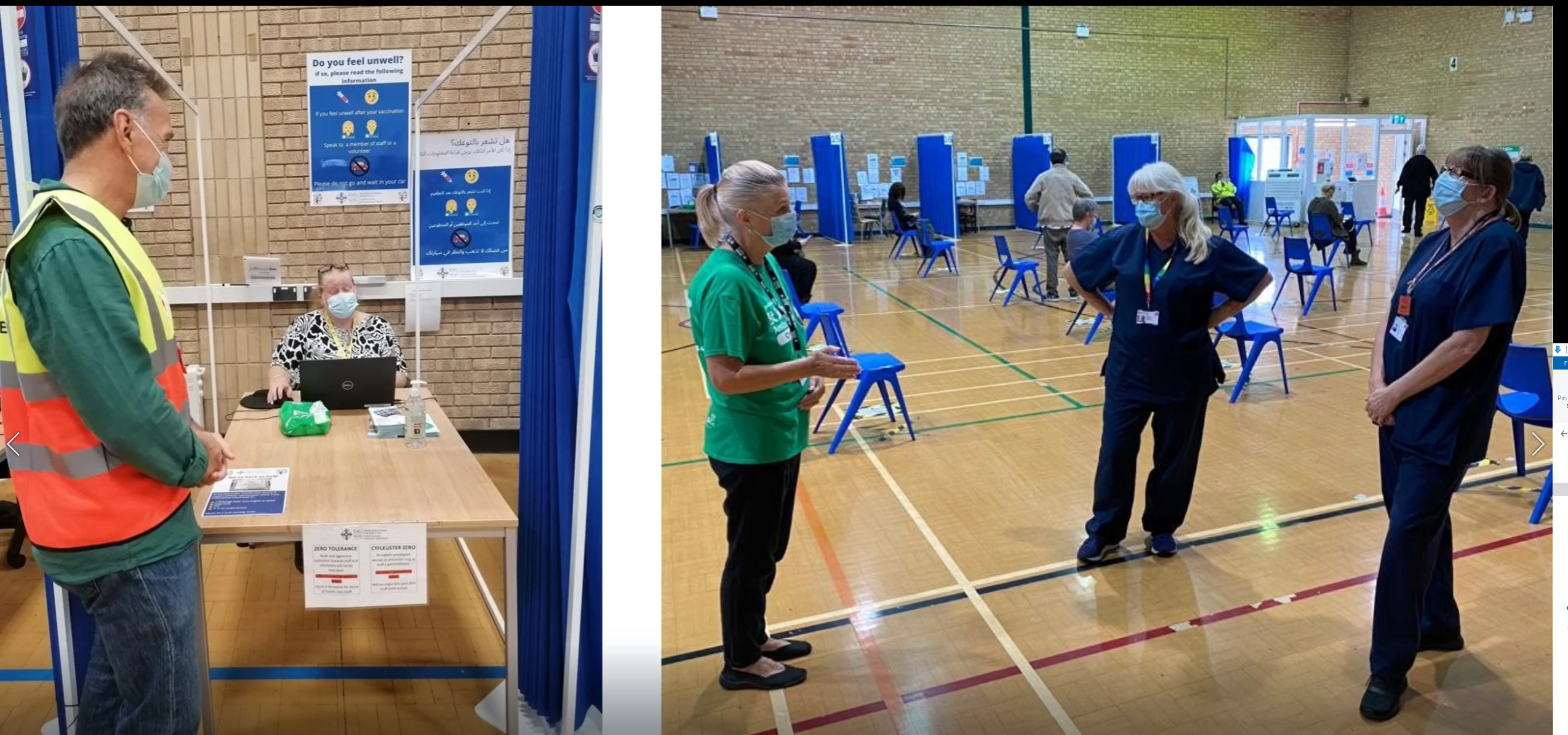 Cardiff and Vale University Health Board have worked in partnership with British Red Cross Wales and St John Ambulance Cymru to provide volunteer support to the Cardiff Vale Vaccination Programme. British Red Cross, St John Ambulance Cymru and Health Board Volunteers have been working together to support Health Board staff, each other and members of the public as they attend their vaccination appointment. Volunteers have been giving their time, energy, care and kindness as Meet & Greet and Recovery Care Volunteers across four community and two hospital locations.
British Red Cross and Health Board Volunteers are supporting as Meet & Greet Volunteers who welcome members of the public into the centre as part of the front line team. Individuals who attend can be feeling an array of emotions; from anxieties on re-entering community spaces after so long shielding or reducing social contact. Some have a fear of needles and what to expect and some have feelings of relief to have their vaccine after such unsure times. The volunteers are there offering a warm welcome and reassurance on the safety measures in place, navigating the centres and guiding and supporting people. St John Ambulance Volunteers are supporting in the recovery areas of the vaccination centres, checking in on wellbeing, both physical and mental, for those who have received their immunisation. These volunteers support in these areas using their first aid skills and event training to support the large numbers of people in the recovery areas. The volunteer role at the Mass Vaccination Centres brings a wide demographic of people together who all have the same objective – to protect their loved ones and communities from Covid-19.
The volunteers have been recruited through the Health Board, British Red Cross Wales and St John Ambulance Cymru pathways but work together as a team. Experienced volunteers buddy up with new recruits, no matter which organisation they are signed up to, and all contribute and are treated inclusively by the Health Board staff on site. You can see the impact they have had in the staff thank you video. Volunteer uniforms may differ but feedback from staff has shown that they are all equally important and an invaluable part of the vaccination team. There are over 100 volunteers supporting the vaccination centres across Cardiff and Vale. They are doing so in their spare time, in the summer holidays, on the weekends, after work, and all do so without complaint, with a smile and with hard-work and enthusiasm.

The partnership working extends in-house; due to usual projects being on hold because of Covid-19. Other organisations we work in partnership with, whose projects are those affected, have been able to support in this capacity. This includes Skills and Volunteering Cymru, whose volunteers, unable to undertake their usual joint project with the Health Board, are supporting as Meet & Greet volunteers at the Mass Vaccination Centres. This again adds to the fantastic and diverse dynamic of volunteers coming together to support during this time. Working in partnership has enabled not only a large number of volunteers to be recruited within a limited space of time but also enabled volunteers to meet and learn about other organisations, volunteer roles, skills and interests and form bonds, having been part of the vaccination programme, all receiving their NHS Hero badges. This shared experience has increased the value of the Meet & Greet role in particular, a role which may have been overlooked until now, due to it being public and not patient facing.
Staff, patients and visitors to the centre have all experienced and can see the value of volunteers, their interaction with the public greatly improving the experience they have at the centre. 99% of over 22,800 visitors who have given feedback rated their experience at the centres as good or very good, something the team are proud the volunteers have been a part of. From January 2021 to date, volunteers from all three organisations have given over 16,000 hours of their time volunteering to support the Mass Vaccination Centres. That's the equivalent of 676 days! The coordinators at British Red Cross Wales and St John Ambulance Cymru have worked closely with the Health Board to recruit and support volunteers, liaising with rotas, induction sessions, updates and keeping each other informed and checking in with each other almost daily. Just like staff from these three organisations, the volunteers have shown great teamwork and support for one another no matter which organisation they are a part of, they have shown resilience and camaraderie and are the best example of what partnership working can achieve. Looking back at this year, it is a great accomplishment, achievement and will be something that will be remembered by all volunteers involved. "I feel I've been a part of something that really matters and was much needed. I'll always remember these last six months." - Mass Vaccination Centre Volunteer.
Read more inspiring stories here.