Winners of awards celebrating volunteering in health and care
16th October 2023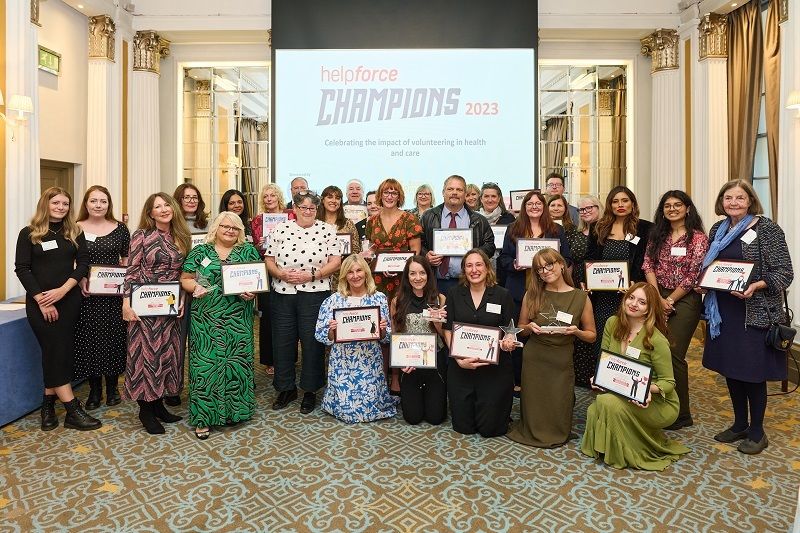 Helpforce announced the winners of its sixth annual Helpforce Champions Awards which celebrate outstanding organisations, teams and volunteers whose work makes a significant impact on the health and care system, improving the health and wellbeing of patients, their families, and healthcare staff.
Helpforce, which partners with health and care organisations across the UK to accelerate the growth and impact of volunteering announced winners from across the UK at a ceremony on 13 October, at the Royal Air Force Club, attended by the Chief Nursing Officer for England, Dame Ruth May, and leaders in the NHS and the VCSE sector.
This year, the awards introduced two new categories to recognise organisations supporting volunteers into careers in health and care, and high impact volunteering projects that aim to address critical challenges, such as overstretched emergency and mental health services.
Dame Ruth May, Chief Nursing Officer of England, said: "I was delighted to be at the Helpforce Champions Awards ceremony, celebrating exceptional organisations and individuals and the impact volunteering makes on health and care across the UK.
"I was struck to learn all about the great work they do, reducing pressures on staff and improving patients' experiences throughout their health and care journey, making sure people can live their life to the fullest.
"Congratulations to all the winners and runners up, I have enjoyed meeting them all. Not only do they help the NHS to provide better care to patients and support their staff, they also play a vital part in strengthening the power of communities. For that I salute them.
"And finally, thank you to Helpforce for organising the awards, giving the organisations and individuals the national recognition that they deserve."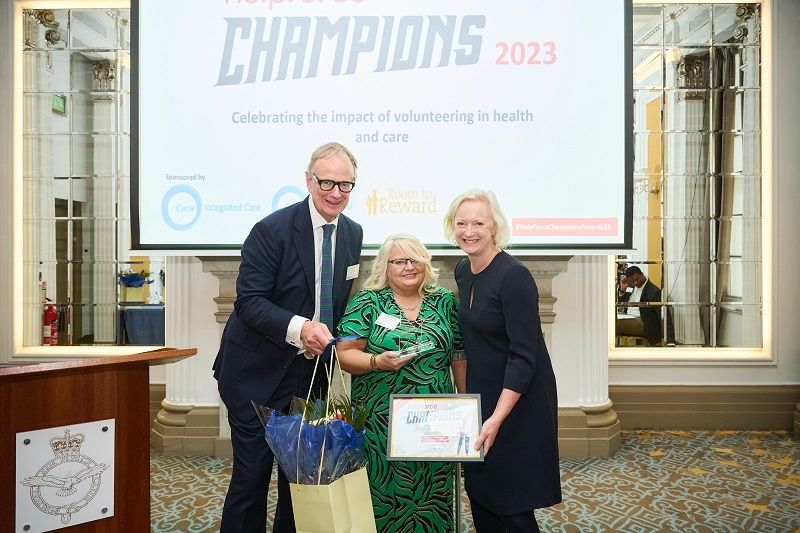 Dame Ruth May (R) and sir Tom Hughes- Hallett (L) presented the award to Amanda Winwood (M) for winning the "Outstanding Staff Champion of the Year"
Sir Tom Hughes-Hallett, Helpforce Chairperson and founder, said: "Many congratulations to the winners this year and a huge well done to the runners up.
"This year could well be the best entries we have yet seen. Each one demonstrates the vital roles volunteers play in reducing pressures on our health and care system and increasing the quality of care.
"To pick just two examples from our winners: Low acuity community responders at North West Ambulance service freed up nearly 500 hours of ambulance time by attending less urgent emergency calls. And Kemal Osman, who won Volunteer of the Year award, impressed the judges by his extraordinary dedication and commitment to volunteering, sharing his own experiences as a cancer survivor to support patients who are going through their own battles.
"Volunteering across health and care is a proven yet massively underused asset. We know that people want to support their community and we need to urgently unleash this potential. The Helpforce Champions Awards shine an inspiring light on brilliant examples of this valuable resource."
The full list of winners are below with all their stories available here:
Celebrating Equality, Diversity and Inclusion in Volunteering
The Royal Wolverhampton NHS Trust - Volunteer Services Team
Impact Project of the Year
North West Ambulance Service - Community Resuscitation Team, Low Acuity Project
Volunteer of the Year
Kemal Osman - the Royal Wolverhampton NHS Trust
Outstanding Staff Champion of the Year
Amanda Winwood - The Royal Wolverhampton NHS Trust
Volunteer Lead of the Year
Catherine Jowitt - Bradford District Care NHS Foundation Trust
Volunteering Collaboration of the Year (Partnership)
George Eliot Hospital NHS Trust - Back to Health Pathway team
Best programme supporting volunteers into careers
Bradford District Care NHS Foundation Trust
Above and Beyond
Laura Greene, Head of Head of Volunteering & Community Partnerships, Kingston Hospital NHS Foundation Trust and Hounslow & Richmond Community Healthcare Trust
The awards were judged by an expert panel of experienced judges including last year's winner of Volunteer of the Year for Scotland Sophie Ross, as well as Dr Allison Smith, Head of Research and Insight, the Royal Voluntary Service; Karen Bonner, Chief Nurse & Director for Infection Prevention & Control, Buckinghamshire Healthcare NHS Trust; Mark Lever, Helpforce CEO; Sir Tom Hughes-Hallet, Helpforce Chairman and Founder; Ian Jones, CEO at Volunteer Cornwall; Belinda Lock, Deputy Director at Somerset NHS FT, Fiona Liddell, Wales Council for Voluntary Action, and Emma Easton, Deputy Director Voluntary Partnerships, NHS England.
Discover how to create high impact volunteer services in health and care.